Romance isn't the reserve of valentine's day and special occasions. It should be spontaneous, special, and shown as often as possible. It is this spontaneity that keeps the romance wide awake, with Hunter Valley providing the perfect romantic backdrop for a special weekend away.
In Leo Tolstoy's War and Peace, a single line encompasses romance perfectly; 'We are asleep until we fall in love!' Every love story is unique, and each deserves its own fairytale setting. The romance-inducing atmosphere of Hunter Valley is one that is hard to beat!
For many, a romantic getaway involves beds strewn with rose petals. Candlelit dinners and flutes of champagne. Long walks under a moonlit sky. All of the usual clichés. But when it comes to romance, clichés are good. Especially when done with elegance and charm.
There's no need to read about romance in novels. Not when you can write your very own love story, your way. Here's how to plan the most romantic weekend away in Hunter Valley and then bring it to life at voco™ Kirkton Park.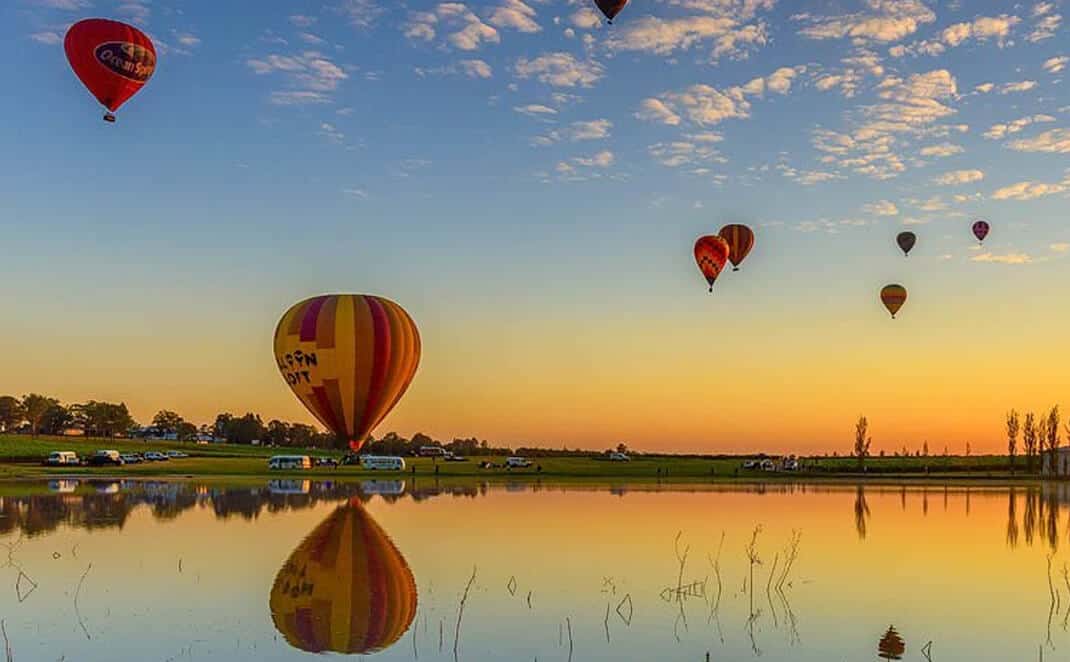 "Every love story is unique, and each deserves its own fairytale setting"
Hunter Valley Accommodation That's Extra Special
Stunning Hunter Valley is steeped in romance and is all about decadence, reconnecting and freedom. When you combine this with breathtaking scenery, world-class wineries and gourmet cuisine, it makes it an absolute must for the ultimate romantic getaway.
Imagine waking up in a luxurious boutique hotel and soaking up sweeping views from your very own private, fully furnished veranda. Indulge in an early morning swim in a Grecian style pool that the ancients would have been proud of. Then wander through perfectly manicured gardens that bring whimsical daydreams and feelings of togetherness to life.
Our Hunter Valley accommodation is made for romance and is the perfect base for exploring the best the region has to offer. The perfect place for a couples retreat that lets you discover a whole new level of love and beauty without any pretences.

Romantic Things to do in Hunter Valley
Hunter Valley Wineries.
Voco™ Kirkton Park is perfectly positioned in a prime location for exploring the more than 150 wineries and cellar doors in the local Hunter Valley area. Spend the day sampling some of the world's finest wines with tasting sessions as part of a wine tour in Australia's oldest wine region. Sample locally produced cheeses paired with homegrown olives. Whether you are wine lovers or not, there are plenty of couple-friendly places to stop along the way and enjoy a craft beer or two while devouring some delectable dishes.
Head to New Heights.
Taking to the skies as the sun rises over the Hunter region is one of the most things a couple can do. Soar above the lush, rolling countryside and vineyards in a hot air balloon for a truly spectacular and unique view you will remember for a lifetime. If you are thinking about popping that special question and are looking to seriously up the romance stakes, what better way to do it than above the most romantic region in Australia.
Hunter Valley Gardens.
Hunter Valley Display Gardens are the largest display gardens in the southern hemisphere. Spread out over 14 hectares, you can transport yourselves to a romantic Oriental garden, an Italian grotto, a magical storybook garden, exotic Indian gardens, and creations filled with love, passion and romance. Spend the day exploring more than 8 km of Hunter Valley walking trails, architectural magnificence and nature in all its splendour and glory.
Hunter Valley Weddings.
Being one of the most breathtakingly romantic places in Australia, Hunter Valley is the perfect place for a fairytale wedding. Voco Kirkton Park provides an exquisite backdrop for your special day and is able to help you create the wedding day of your dreams. With suites perfect for honeymoons, charming cuisines, stunning reception rooms, and gorgeous grounds, it sets the scene for a truly a magical day.
Hunter Valley Wine & Food Festival.
Throughout the months of May and June, some of the finest local food and wine producers in the region come together to put on the ultimate gastronomic showcase. Sip on glass or two of vintage Shiraz, chow down on some local cheeses, and master the many wine tasting and making masterclasses. Enjoy a mad hatters tea party, attend the Music in the Woods festival, or head on over to the epic Hunter Culinary Association food fight. What better way to spend a romantic weekend away together than sampling the finest food and drink the region has to offer at the Hunter Valley Food and Wine Festival.
Romantic Early Mornings
Breakfast. Enjoy a delicious alfresco breakfast overlooking the fragrant and picturesque rose gardens in The Conservatory. Sip on your morning coffee while soaking up the sights and sounds of the water features. And enjoy starting your day with locally sourced produce in light and airy surrounds perfect for reconnecting with your loved one.
Energise. What better way to burn off those breakfast calories and energise yourselves than a little bit of exercise. Enjoy a few games of early morning tennis to kick-start your day or head on over to the fitness centre and have fun working out together. If leisurely exercise is more your thing, there are many beautiful walking trails to explore on the estate grounds. Get those feel-good endorphins pumping and enjoy a little one-on-one time with your partner.
Awe-Inspiring Afternoons
Relax. Our Grecian-style indoor heated pool is the perfect place to indulge in a little bit of relaxation. After a leisurely dip, it's time to get a little hot and sweaty… and unwind in our exquisite sauna and spa. Spend some time relaxing in each other's company while letting the soothing heat loosen up tired muscles before heading back to your luxury room for a little more relaxation.
Lunch. Romantic weekends in Hunter Valley are made for wine. Epoche Lounge Bar is the perfect place to sample some of the best locally produced wines on offer without needing to leave the comfort of the hotel. Pair your wine with a freshly cooked wood-fired pizza, a luxurious salad or Mediterranean-style tapas. If wine isn't your thing, you can choose between a wide range of craft beers and cocktails to compliment your meal. Whatever it is that tickles your tastebuds, you are sure to find it here.