voco™ Kirkton Park Hunter Valley is on the fast track to creating a sustainable, environmentally friendly hotel in the heart of the Hunter region. But what is it that drives us to lead the way for a better world for future generations?
Everything from dying bee populations and droughts to bushfires and the decimation of reefs is changing the very landscape of our country. It only takes small changes to see big ones, and we are well on our way to making our mark with our sustainable hotel practices.
Climate Change in Australia
In the past one-hundred years, Australian temperatures have risen by more than 1°c. These are expected to increase by as much as 5°c in the next 70 years. The impact we, as a species, have had on the planet is almost beyond repair… almost. In fact, no one knows how we will respond to 5,000 years worth of temperature increases crammed into just 200 years.
It's true that Australia is no stranger to heat, but the heat could get a whole lot worse if people don't start making changes today. The higher the temperatures climb, the more likely prolonged periods of drought become. And this has a knock-on effect not only on the environment, but also all living organisms.

Less rainfall increases the risk of ongoing bushfires, killing off those much needed shade-providing trees. In turn, the ground becomes baked and unable to support life, while ground air temperatures start to climb. Crops will fail. Farm animals will starve. Agriculture will almost disappear. See where we are going with this. We're not trying to scare you; this is what could really become Australia's reality.
Climate Change is largely caused by greenhouse gasses. Some people produce far less than others and your impact is known as your carbon footprint. You might not think you have much of a carbon footprint, but it might surprise you how much of one you really have. Everything from the lights you use in your home to the car you drive has an impact. Even leaving a TV on standby increases your footprint.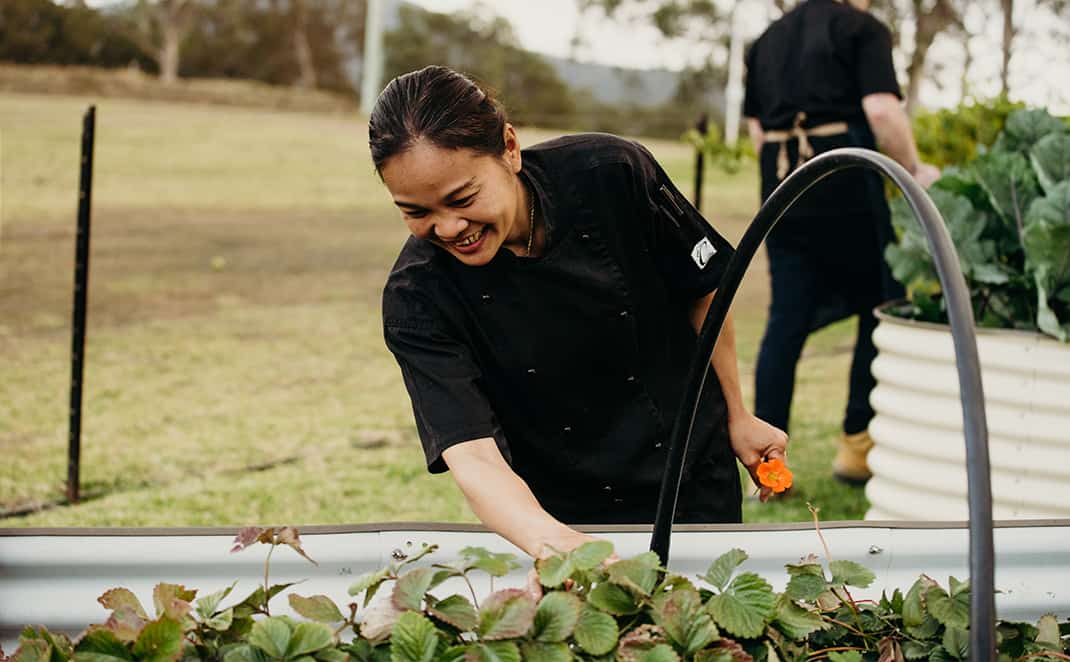 Sustainable Hotel Practices
Clean energy, such as solar power and wind-generated power help reduce your footprint. Small steps can lead to big things, especially when more people start to adopt sustainable practices such as:
Switching to renewable energy sources

Using energy saving bulbs

Switching off appliances and lights

Setting power saving modes on TV and PC

Recycling water and rubbish

Buying local produce vs imported produce

Using public transport or car pooling

Planting trees and flowers in your yard

Switch to electric powered or manual tools
At voco™ Kirkton Park, we have already implemented many onsite sustainable initiatives as part of our sustainable development goals. The environment is important to us, which is why we pride ourselves on becoming an eco-friendly hotel.
Mother Nature is always a welcome guest here, and our green hotel ideologies will help ensure that Hunter Valley tourism continues to thrive. Here are just some of the ways that we are working for a better environment, both locally and globally.
Vegetable Garden & Beekeeping
Our onsite estate vegetable garden plays an important role in providing the freshest and most nutritious ingredients possible. By growing some of our own produce, we eliminate the need to purchase many products. Even food has a carbon footprint. The energy used to grow, water and harvest along with transporting and packing all adds up.
In the very near future, we hope to be producing approximately 80% of our own vegetables. Pollination from our very own honey bees not only leads to increased yields, but also gives us our own source of fresh honey (only if there's enough left over to share).
Global bee populations are on the decline, and with bees pollinating over 35% of global food crops, it's more important than ever to ensure pollination continues. Our honey bees go much further than just the estate grounds. Everyday, worker bees fly up to 6 miles a trip looking for nectar and pollen. This not only keeps our grounds blooming year in, year out, but also the surrounding area.
Renewable Energy Sources
As part of our efforts to becoming a sustainable business, we have reduced our carbon footprint by 20% and our energy usage by 20% year-on-year. When you hold a meeting or event in one of our meeting rooms, you are doing your part for the environment. Our very own solar farm provides all of the power needed to run our meeting rooms, making for greener, cleaner business dealings.
As part of our partnership with Carbon Neutral Australia initiative, voco™ Kirkton Park calculates the carbon footprint that each meeting or event creates. This is then offset by the 'Trees for Bees' program that plants an exact number of trees to counterbalance the impact.
Of course, it takes more than just us to see changes starting to happen. This is why partners, guests and clients are encouraged to do the same. The biggest positive impact we can have on the planet is to work hand-in-hand with partners and guests and provide them with the steps to take to do their bit.
Recycled Water & Less Landfill
Every time you wash your hands, take a shower or wash the dishes, water is literally being flushed down the drain. With many droughts hitting the country year-on-year, recycling waste water goes a long way with helping us to avoid using needless precious resources.
Water is collected and recycled before being used to maintain our beautiful gardens. In fact, we have managed to reduce our water usage by 13% while keeping our lawns and plants well hydrated.
Looking at our recycling progress, our resident farm animals take care of any fresh organic waste. Currently, our recycling program sees us recycle approximately 26% of trash that would have otherwise ended up in a landfill site.
Do Good, Sleep Well
We are working hard to protect and safeguard the precious environment of the Hunter Valley. As part of our efforts to create environmental sustainability, you can sleep peacefully at night knowing we are doing our part.
Enjoy delicious, fresh food and beautiful grounds without compromising on comfort or quality. Our Hunter Valley hotel is made for amazing getaways to one of Australia's most beautiful, unspoiled landscapes. A meeting or event with us isn't just good for business, but the environment to.
Our green hotel practices will hopefully go a long way with preserving the beauty and fragile ecosystems of the Hunter Valley area. If you would like to learn more about sustainable development goals and how you can help, visit Carbon Neutral Australia today.
DISCOVER MORE